from design to finished product


The Kaliński – Production department, founded in 2017, is rapidly developing in the field of machinability of steel, stainless steel and aluminum (milling and engraving) and non-cutting shaping (tube bending).
We have the three-axis milling machine AFM (Andrychów Möbelfabrik) and the pin bending machine CN from AMOB.
Services performed

Milling
We offer professional milling services 3D of individual concepts and series services from such materials as: aluminum, steel and stainless steel. On request we secure access to the materials or we work on the material given to us.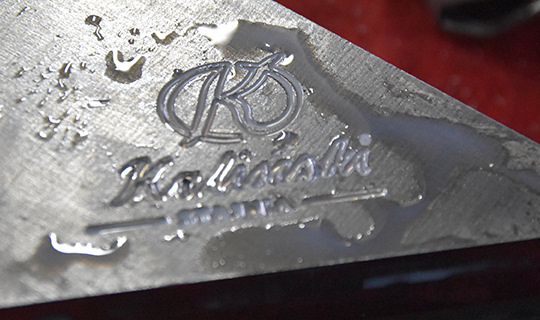 Engraving
We personalize retail according to individual needs by engraving fonts and characters on word marks.

Stress relief of pipes
Among the services we provide, there is also stress relief of pipes. The purpose of this process is to restore balance caused by the previous pipe bending. To stress relief the pipes, we use the thermal treatment method. We anneal the tubes in a special furnace up to 600 – 700 ᴼC.

Plastic processing of pipes
On the basis of a project and customer needs, we realize tube bending services from stainless black steel with certain parameters from the material entrusted to us or our own.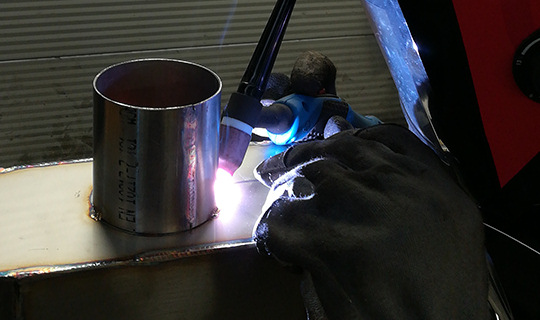 Welding
As part of our services, we also do metal welding and build different types of structures. We use the MIG, MAG and TIG welding methods.
Machinery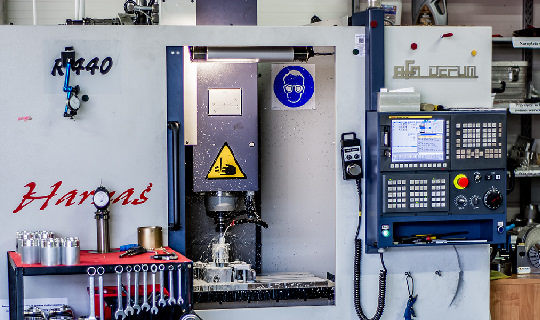 Vertical machining center CNC R550 Harnaś
The R 550 vertical machining center is the numerically controlled milling machine and equipped with the FANUC 0i_MF.R550 continuous control system. Precision of the machining process in the CNR R550 center is possible by using the bearing spindle system with the high precision class, backlash-free ball screw drive for thrust in axes X, Y and Z on the bearing with the high axis stiffness. Spindle rotations as well as the size of the working thrust have their own stepless regulation and are programmed. The machine was manufactured by the Defum machine factory in Andrychów.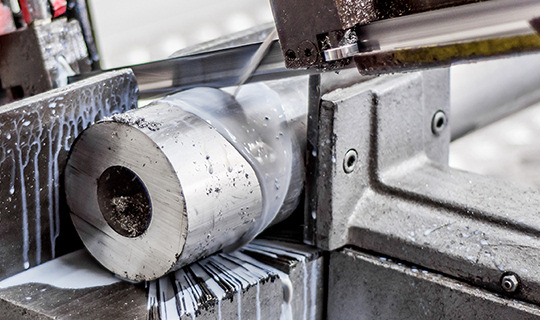 Gravitational band saw Ergonomic 275.320 DG
The gravitational band saw allows tube cutting with a diameter of up to 230 and also at an angle of 60 ᴼ. The machine is equipped with the dedicated cooling system and the tape cleaning brush. The cutting time depends on the type of material and is in the range 40 – 80M / min. contain.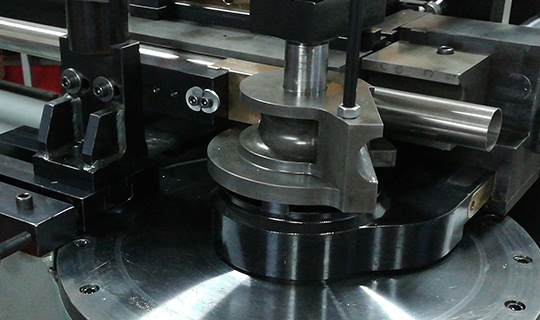 Bolt bending machine for pipes and profiles Amob MDH 90 CN2
Bolt bending machine with electrical gear, digitally controlled on two axes. With the NC controller, the machine can create new bending programs and play back saved bending programs. The CN2 version has a digitally controlled bending axis and is equipped with a digitally controlled turntable. The pipe thrust occurs manually when using the limit switches. The machine is equipped with a bolt and can bend the pipes qualitatively, even up to a radius of 1.5D (not all pipes can be bent in such a small radius). The maximum pipe length for bending is: 4.2 meters.
Frequently Asked Questions
Sample realizations